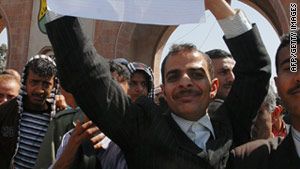 Sanaa, Yemen (CNN) — Police in Yemen's capital of Sanaa thwarted a demonstration by students and activists at Sanaa University on Wednesday, the fifth rally since the Tunisian people forced their president to leave office and the country.
Hundreds of college students and activists gathered at the university gates at 10 a.m., but security patrols surrounded them. Anti-riot police closed the gates, preventing the students from taking their demonstration to the streets.
Many security patrols and intelligence officers were deployed to disperse the rally as demonstrators started chanting slogans urging President Ali Abdullah Saleh to leave office and the government to step down amid the current deteriorating situation.
Four students from the opposition Islah party were arrested and are still in custody, informed sources said, adding that others were attacked with batons.
The four students led the rally along with youth leaders from the Joint Meeting Parties, the opposition, and were arrested after they refused to move when anti-riot police started dispersing the protesters. Eyewitnesses said police broke the window of a parked car and beat a protester until his classmates rescued him.
Demonstrators said their goal was to send a message to the Tunisian people, who liberated themselves from their corrupt regime; to demand political and democratic reforms in Yemen; and to urge Saleh to leave office.
Yemen is tightening controls over demonstrations and warning that authorities will not tolerate destabilizing acts amid fears after the events in Tunisia.
On Tuesday, police locked protesters inside the university campus as college students demonstrated.
Previously, college students and activists organized small rallies inspired by the ouster of Tunisian President Zine El Abidine Ben Ali, but police did not break up rallies. On Wednesday, anti-riot police and intelligence officers blanketed the area and were well-prepared to thwart rallies.
Students at the rally chanted slogans such as: "Revolution, revolution, the youth are against the corrupt regime. The president should leave, the situation should be straightened out."