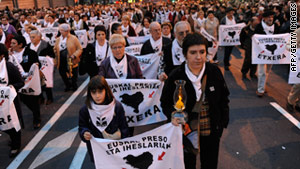 Madrid/Pamplona, Spain – Spanish and French police Tuesday detained 13 people suspected of links with the armed Basque separatist group ETA, Spanish Interior Minister Alfredo Perez Rubalcaba said.
The operation was the first large-scale one against ETA's entourage since the group consolidated its four-month ceasefire, making it permanent, verifiable and general on January 10.
Spanish police detained two people in the Basque region and nine in neighbouring Navarre, seizing computer materials, police said.
Most of the suspects were linked with radical organizations such as Ekin, which is believed to transmit ETA's instructions to related groups; Askatasuna, which defends jailed ETA activists; and ETA's political wing Batasuna.
Charges against the suspects included maintaining a pro-ETA website and participating in acts of street violence.
A joint French-Spanish police operation meanwhile led to the capture of two people who had fled Spanish police swoops targeting Ekin and the pro-ETA youth organization Segi, the daily El Mundo reported on its website.
The Spanish government finds ETA's ceasefire insufficient and insists on an unconditional military surrender by the group, which has killed about 850 people since 1968 in its campaign for a sovereign Basque state.
The arrests showed that the government had not changed its anti- terrorism policy, Justice Minister Francisco Caamano said. 'There will be no dialogue (with ETA) and we will continue working in the same direction as now,' he said.
Basque nationalist party Eusko Alkartasuna, however, accused the government of trying to 'obstruct' the 'irreversible process' that had been launched in the Basque region.
The party was referring to attempts by Batasuna to persuade ETA to switch from a violent to a purely political strategy in the campaign for independence, a subject Spain refuses to discuss.
Madrid was 'afraid of facing … solutions and … uses the old recipes' of 'repression' and 'political persecution,' said Tasio Erkizia, a spokesman for pro-ETA groups.
Tuesday's swoop followed the arrest of two ETA suspects in Spain and France on January 11.
ETA is listed as a terrorist organization by the European Union and the United States.