Rally to mark death of fan shot by men from the Caucasus turns into racist riot in city square and underground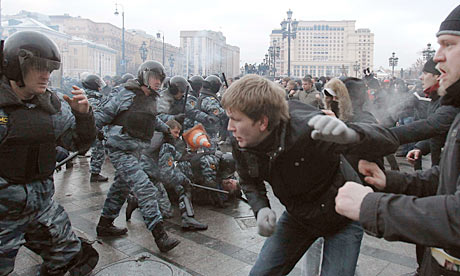 At least two people were killed after around 7,000 far-right football fans and nationalists gathered at a rally outside Red Square at the weekend, calling for the death of Russia's immigrant population.
The demonstrators, who were marking the death last week of Spartak Moscow fan Yegor Sviridov, who was shot during a brawl with several men from the Caucasus, flashed the Nazi salute, chanted "Russia for Russians!" and pelted riot police with flares, smoke bombs and metal fence posts.
After the rally, hundreds of protesters entered the Moscow metro, where they continued their rampage, beating and stabbing passersby from central Asia and the Caucasus, Russia's troubled, mainly Muslim, southern region. A Kyrgyz man was attacked by 15 people and stabbed to death. One central Asian man was reported to have died in hospital from his injuries following the riot, but officials have declined to comment. Around 20 people were taken to hospital.
The square on which they gathered, Manezhnaya Ploshad, was left littered with graffiti, including one that read: "Yids, get out of Russia!"
The riot came less than two weeks after Russia won the right to host the 2018 World Cup.
Russian president Dmitry Medvedev took to his Twitter account last night to post a photo from an Elton John concert he attended. Seconds later, he wrote: "Everything is under control on Manezh Square and in the country. All the inciters will be brought to justice. All of them, without question."
Around 65 people were detained during the riot, but all have since been released. Vladimir Putin, Russia's prime minister, has remained silent.
Tensions between far-right football fans and police have been building for weeks. In mid-November, fans of Russian champions Zenit St Petersburg clashed with riot police in the city, injuring several.
Last night, around 1,000 nationalists took to the streets of the southern city of Rostov-on-Don, shouting "Rostov is a Russian city!" and shutting the main street. They had gathered to protest about the 27 November killing of a student during a fight with a man from the Caucasus republic of Ingushetia.
Activists have long warned that Russia's far-right tensions could boil over. Government officials, particularly in the wake of the financial crisis, have played up populist fears over immigration. Since coming to power two months ago, Moscow's new mayor, Sergei Sobyanin, has focused on reducing the presence of migrant labourers in the city.
Far-right football fans are believed to be planning further demonstrations, with one reportedly set for Wednesday evening in central Moscow.