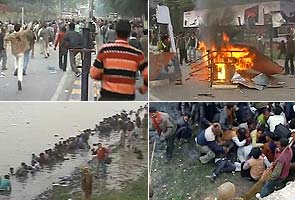 Lucknow:  Violence broke out in Lucknow after gram rozgar sewaks clashed with the Lucknow police at the Shaheed Samarak, they were protesting after being laid off by the state government.
But the protest that was supposed to be a peaceful hunger strike took a violent turn when some of these protestors allegedly threw stones at the police and set some vehicles on fire.
One person was injured when the police fired at the protesters.
The police also lathicharged them and drove them to the nearby Gomti river.
Some of the protestors jumped into the river. The police had to rescue at least three of them who nearly drowned.