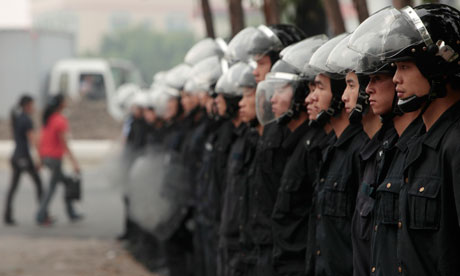 SHENZHEN, China, Nov 11 , 2010 (IPS) – Labour unrest appears to be far from over in southern China, although striking workers at the Japanese-owned Ricoh Elemex factory in Bao'an district in this city were recently forced back to work by local officials accompanied by around 400 armed police officers.
Several workers there told IPS that the their strike ended on Oct. 27, after 15 days. Two days later, around a dozen armed police were still keeping watch. One officer, who did not want to give his name, said they had been assigned to guard the factory and its 1,300 workers for over a week to prevent another strike.
But although this particular strike – the latest against the backdrop of labour unrest this summer – has ended, workers and activists in the Pearl River Delta region say that all signals point to more unrest because workers are struggling with stagnant wages and lack of overtime hours amid rising inflation pressures.
"Workers lives are very hard at the moment," Bao'an labour activist Zhang Zhiri told IPS. "Extra orders are down sharply since the financial crisis abroad and workers can't get overtime. Their wages are rising a little but they can't keep up with inflation."
According to China's National Bureau of Statistics (NBS), China's consumer price index (CPI) rose 3.6 percent in September compared to the same period last year and was expected to rise in October, though NBS officials said on Nov. 2 that inflation for 2010 would likely be around 3 percent.
"Workers here get about the same amount of pay as what workers in the Yangtze River Delta region and in central China can get," said Zhang. "But inflation here is much higher compared to those areas."
Guangdong's CPI rose around 3.4 percent in September compared to a year before, provincial statistics show.
According to a survey by the All-China Federation of Trade Unions, 25 percent of China's workers have not had a pay raise in more than five years, says a Nov. 2 report in the state-run 'Global Times' newspaper.
To discourage copycat strikes, a near-total domestic media blackout was imposed on the latest strike at the Ricoh plant in Shenzhen, with no national or provincial coverage in Guangdong province allowed by authorities. At least two reporters from Shenzhen newspapers were able to report on the strike after it ended, IPS confirmed.
One 21-year-old worker at the Ricoh plant named Fu said that workers were encouraged to strike by mid-level management who feared they would be fired during a forthcoming merger with a larger Ricoh plant nearby.
Fu and other workers, who did not want to give their names, said that the company promised a pay rise of 100 yuan (15 U.S. dollars) per month on top of the basic salary of 1,100 yuan (165 dollars), and that anyone let go because of the merger would get 3,000 yuan (449 dollars) in severance pay plus one month's basic salary.
"We are not satisfied with the result," Fu said.
The strikers also demanded a new chairman of the factory's labour union since the current one also serves as vice president there, but this was rejected. The strikers said that workers at the larger Ricoh factory nearby also tried to strike, but that management control at that plant was too strong.
"The government has repressed this strike," said one worker, refusing to give his name. "We just want higher wages like other people get paid in factories nearby."
Fu said that the new wages are supposed to be paid on Nov. 20. "If we don't get the wage they promised, we'll have another strike. They've lied to us before."
By the end of September, Guangdong's provincial government was expected to release new regulations that would allow workers to democratically elect representatives to their company labour unions.
But according to activists here, pressure from the Hong Kong manufacturing associations as well as local Chinese business federations had caused provincial officials to shelve the idea for the time being.
Zhu Jiang, a labour activist in Shenzhen's Longgang district, told IPS that similar regulations about democratic consultation that were supposed to have been in by now at companies in Shenzhen municipality have also been put on the back burner.
"Once the policy on collective consultation comes out, workers will be able to require more," Zhu said. "This will make it hard on both businesses and some government departments."
At the Honda plant in Foshan where the summer strikes started, labour relations are tentatively getting better, workers there told IPS. On Oct. 22, the company met with workers to discuss the election of representatives to their labour union, and the first round of voting has started.
"Things are going smoothly now, but we'll wait to see what happens," said Honda worker Deng Yufei, 23. "We won't know of the real impact until the election is finished."
Zhu says that the recent suicides at Foxconn plants in Shenzhen and the strike at Honda this summer showed that workers will eventually find ways to express their opinions, no matter what regulations are in place. "Workers need ways to find their voice, but the truth is they have fewer and fewer ways to speak out," Zhu said. "If conditions don't change, there will be more cases like (strikes and suicides)."
Zhang believes the real issue to be addressed is Chinese workers' inability to elect independent labour unions.
"The draft regulations don't allow for independent third- party labour representation," Zhang said. "Most Chinese labour unions can't really perform their duties to workers. Most of the time the workers' side is represented by government labour unions or a labour union organised by the company. How can a puppet labour union organised by the company represent the workers? It is ridiculous."