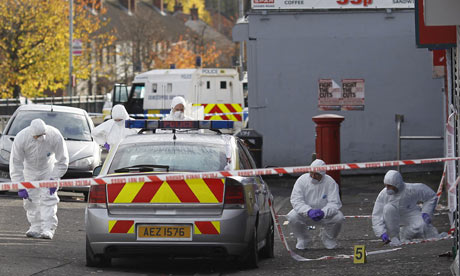 Oghlaigh na hEireann carried out attack which left two officers injured, say republican sources
8 November 2010
Republican dissident terror group Oghlaigh na hEireann carried out a blast bomb attack on two police officers in west Belfast, republican sources have told the Guardian.
Police today confirmed that the device used in the attack on Friday night was a military-style hand grenade.
Republican sources said ONH had recruited a number of seasoned former Provisional IRA members in the city.
They said an entire ex-Pira unit from the St James' area of west Belfast had defected to the ONH. This group includes veteran Pira bombmakers and assassins who were highly active before the Provisionals' 1994 ceasefire.
"ONH is the rising force in the west, not the Real IRA, which is stronger in Derry. They have got some top Provo operators over to their side, especially around St James," one republican veteran told the Observer yesterday. "These are dangerous people who have loads of experience and will keep this campaign going," he added.
ONH was formed as a result of a split within the Real IRA after the latter organisation's founder, Michael McKevitt, tried to call a ceasefire following the 1998 Omagh bomb atrocity.
Friday night's attack in the Shaw's Road area of west Belfast was part of a carefully planned trap. ONH members robbed a bookmakers in the area and after police were called to deal with the heist they waited for a Police Service of Northern Ireland patrol. When the police arrived a man on the back of passing motorbike threw an explosive device at the policemen.
Two officers were hurt, one suffering injuries to his arms and legs, a police spokesman said. However, their wounds are not thought to be life-threatening, he added. A third PSNI officer had to be treated for shock.
Brian Rea, acting chairman of Northern Ireland's policing board, condemned those responsible. "Actions like this will not deter the police, and others who work with police, from continuing to do their best to provide good policing and a safer environment for the people of west Belfast," he said.
Sinn Féin assembly member for the area, Paul Maskey, said: "There are a lot of shops and eating places, it's a residential area and there's a GAA [Gaelic Athletic Association] club. We're very lucky that there were not more injuries than there are," he said.