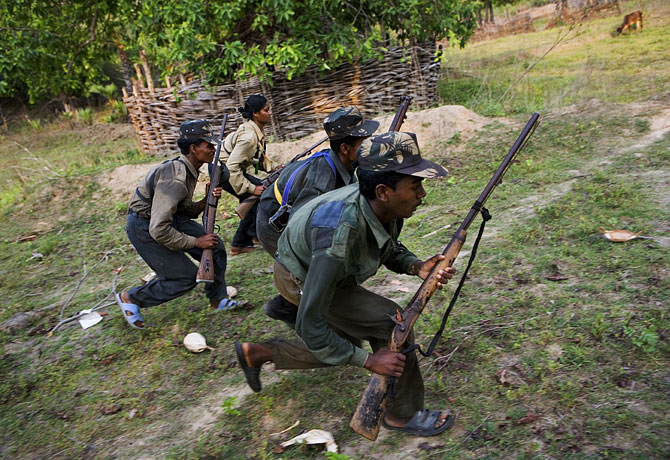 Maoist bomb kills trooper in Jharkhand
Ranchi, Nov 7 (IANS) A Central Reserve Police Force (CRPF) trooper was killed when a bomb planted by Maoists exploded in Jharkhand's Bokaro district Sunday, police said.
The CRPF personnel were on a search operation on Jhumra hills in the district, around 160 km from here, when they spotted a Maoist flag near Jamunia Jora village.
Trooper Basumatari went to remove the flag, which triggered the bomb killing him on the spot.
Maoists have used flag-triggered bombs to trap security personnel in the past also.

Two Maoists arrested in Orissa
Two Maoists, allegedly involved in several offences, were arrested today in Orissa's Malkangiri district, police said.
The rebels were picked up by the police during a combing operation near Khairput in Mathili area, about 50 km from here, Inspector In-Charge of Malkangiri police station R K Pati said.
The ultras, identified as Arjun Banda (29) and Laxman Pangi (20), belonged to Khairput area of the district and were involved in several incidents besides writing posters and banners for the outlaws, he said.
Arjun had joined the Maoist outfit about four years ago, he added.

Maoists kill two in Midnapore
Suspected Maoists shot dead two persons, after picking the father-son duo from their home at Bandhgora area in West Midnapore district early today.
Police said the bullet-riddled bodies of Sukchand Mandi (54), a former CPI(M) activist, and his 32-year-old son Nepal were found lying on the Jhargram-Bandhgora road shortly after they were abducted from their home in nearby Mahulbani by armed men in the wee hours.
Sukchand was also a casual worker of Jhargram mini zoo which is run by the state forest department, police said. The zoo had been vandalised by Maoist-backed People's Committee against Police Atrocities (PCPA) earlier.
With several CPI(M) activists having been killed by the Maoists in Bandhgora in the past two years, the outfit is suspected to be behind today's double murder as well, police said.

NHRC seeks BSF, Chhattisgarh police reply on villagers torture
The NHRC has sought a reply from BSF and Chhattisgarh Police on a complaint alleging that their personnel tortured villagers, molested women, including a minor, and arrested six schoolgirls on false charges of aiding a recent Naxal attack in Kanker district. Taking cognizance of the matter, the
National Human Rights Commission (NHRC) issued notices to the BSF Director General and Kanker district SP directing them to submit a "factual report" within six weeks.
The complaint was filed by a rights activist and lawyer Radhakanta Tripathy who alleged that security forces raided Panchangi and Aalor village in Kanker district on September 5-6 and tortured villagers asking them to give whereabouts of Maoists.
They not only beat up innocent villagers but carted some villagers, including women, to their camp and gave electric shocks to some of them during interrogation, Tripathy charged.
Six school girls were later arrested and charged with aiding a Maoist ambush that left three BSF personnel and two policemen dead on August 29.
"The youngest among the arrested girls is a student of class 10th," Tripathy alleged and sought NHRC intervention into the matter.