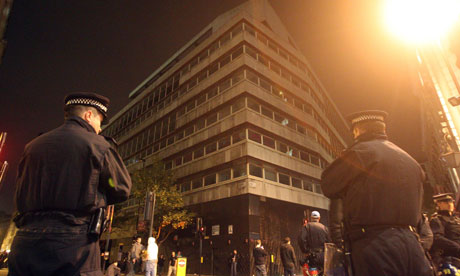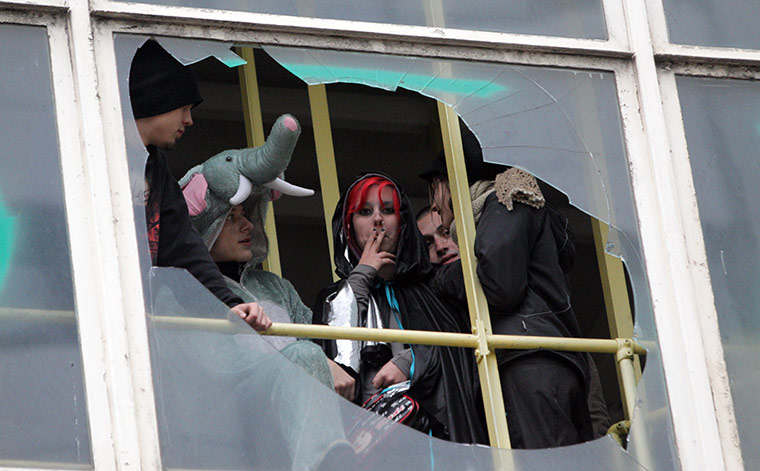 Hundreds of revellers went ahead with a illegal rave in central London today despite clashes with police officers who tried to break up the gathering.
Several police officers were hurt after bottles and bricks were thrown during the disturbance in High Holborn, the Metropolitan police said. One needed hospital treatment for a minor head injury but was later discharged. At least seven people were arrested for suspected public order offences.
Police were first called to the event in a disused building at 11.20pm last night. They said some people became aggressive after being asked to leave the area and commanders then called in dozens of riot squad officers from the Met's territorial support group (TSG).
A number of buildings and vehicles were damaged during the affray but most of the revellers went back into the eight-storey building where the event was taking place after the clashes. "Most of the people are still there," said a Met spokesman. "They have gone back inside the building, and are going ahead with the rave. Officers at the scene have a watching brief."
As the rave continued into the morning with deafening music blaring out, the atmosphere inside was said to be friendly. Hundreds of revellers spilled out onto New Oxford Street, many dressed in Halloween costumes. There were ravers in boiler suits, bear suits, and jester costumes, and an array of hoodies, top hats, fluorescent caps and dreadlocks.
Some were drinking beer in the road, many were clinging to water bottles. As people left, some shook hands with officers or asked the best way to get home.
Flavia Pickler, 28, a nanny, from Brighton, and her friend Samanta Coletti, 27, a waitress from west London, tried to have their picture taken with some officers. Pickler, dressed as a toffee apple with her face paint fading away, said: "It's very friendly, you can trust people." David Ameri, 24, a squatter in Hounslow, said: "We're rebelling but we're not harming anyone, we don't cause damage."
Up on the roof one raver lowered himself over the ledge, obscuring graffiti which read "Fuck the police." But he soon pulled himself back up.
As well as a police officer, two other people received hospital treatment. A woman in her 30s who police said was caught up in the disorder was also taken to hospital with a cut face, while a man in his 20s needed treatment for intoxication.
Police maintained their presence around the building, which is bordered by High Holborn, Museum Road and New Oxford Street, as the rave continued. About a dozen officers were stationed in sight on the nearby corners. Road closures are also in place around the site. It is not known when the event is due to end. One officer said: "We're hoping people will get tired and go home."