October 28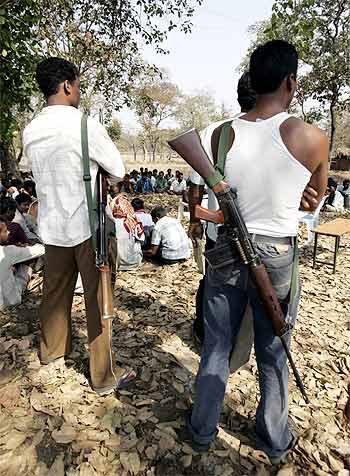 Chhattisgarh Government on Thursday told the Supreme Court that Maoist outfits and Naxalites were targeting buildings of schools, panchayats and hospitals and that anti-Naxal vigilante group Salwa Judum has become infructous. However, the petitioners, who have sought a direction to the state
government to refrain from allegedly supporting and encouraging Salwa Judum, said though it (Salwa Judum) is in animated suspension, it has been revived under new name which the state government has never acknowledged.
These claims were made by the contesting parties in their affidavits filed before a bench comprisng Justices B Sudershan Reddy and S S Nijjar which has been monitoring the steps taken by the authorities to tackle the Naxal problem and Chhatisgarh Government's stand on disbanding of Salwa Judum.
The bench posted the matter for further hearing on November 18.
The state government, which was earlier pulled up for not filing proper affidavit, said in the first nine month of the year, there were 134 encounters between Maoist and security forces in which 160 security personnel have been killed.
"From January to September this year there have been 134 encounters between Maoists and security forces in which 160 security personnel have been killed," the affidavit filed by advocate Atul Jha, the standing counsel for the Chhattisgarh Government, said.
It said, "One of the key components of the Maoist strategy is to destroy the infrastructure and the Maoist outfits and the Naxalites have destroyed 110 school buildings, 74 panchyat buildings and three hospitals".
On the issue of arrest of another petitioner in the matter, Kartam Joga, a Leftist leader on September 14, the affidavit said he was arrested in connection with April 6 incident when 76 CRPF personnel were killed in an ambush by Maoists.
However, sociologist Nandini Sunder, one of the petitioners, said she visited the Naxal-hit areas in the state and maintained that though Salwa Judum is in "animated suspension", it has been revived under new name, "Dandakaranya Shanti Sangharsh Samiti", which the state government has never acknowledged or punished its members for their illegal acts.
Further, villagers also refers to Special Police Officers (SPOs) as Judum when they carry out arson or killings under the guise of 'Operation Green Hunt'.
Chhattisgarh Government filed a comprehensive affidavit about the steps being taken by it in Maoist-affected areas on various issues as per the August 31 direction of the court.