October 27, 2010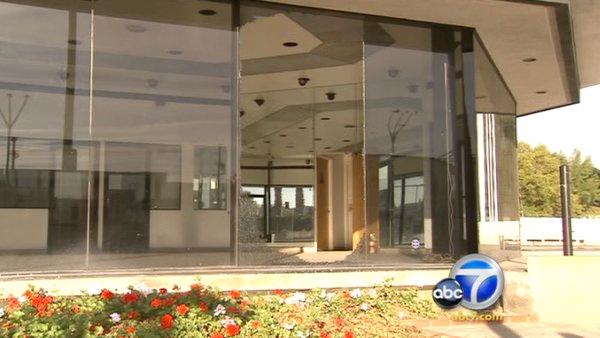 VAN NUYS, Calif. (KABC) — Vandals struck Tuesday night and shattered large plate glass windows at several car dealerships in Van Nuys.
The Sherman Oaks Kia dealership on Van Nuys Boulevard was one of the many businesses hit by vandals around 9:45 p.m.
Miller Honda, Center BMW, Keys Audi, Car Factory and Keyes Toyota also suffered structure damage. A beauty salon and an adult store in the area were also vandalized.
Some didn't hear about the damage until they turned on the morning news.
"When I saw Keyes, I said, 'Uh oh, I'm right next door,' Then I saw my sign, and I said, 'Oh no, they got my store,'" said car dealer Michael Koudsi. "Well, it looks like it's just the glass. I did jump out of bed and rushed over here though."
All the businesses hit were on the west side of the street, leading authorities to believe that those responsible were most likely in a car.
Police said the vandalism appears to be fairly random
Authorities initially suspected that the vandals used a pellet gun or an actual firearm, but now they think marbles fired by slingshots caused the damage.
"It sounds like some kids just wanted to have some fun, but it didn't seem like they hit the vacant buildings, so I don't know if they were targeting certain people or just having fun," Koudsi said.
So far, the damage appears to be confined to broken glass windows.
"I'm really happy that they didn't get the cars, because that costs a lot more than a glass," Koudsi said.
The broken glass will get replaced and the mess will get cleaned up, and everybody will go back to work knowing that it could have been worse.
There were people inside the dealerships at the time of the attacks, but no injuries were reported.