Number of blacks stopped in Montreal North hit 'new heights' in 2008, criminologist says
October 19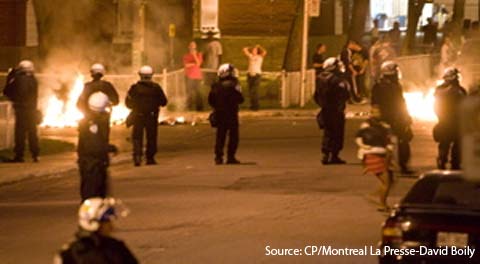 A 50-per-cent hike in the stopping and questioning of blacks by police in Montreal North in 2008 might have contributed to the tension underpinning the riot that erupted there after a police officer fatally shot Fredy Villanueva that summer.
Criminologist Mathieu Charest, who works for the police department, makes this point in a second report, titled Popular Discontent and Police Practices. The report, dated Aug. 30, 2010, was filed yesterday at the coroner's inquiry into Villanueva's death.
After examining statistics, Charest found that police stopping and questioning of blacks in Montreal North reached "new heights" in 2008 after a 126-per-cent rise from 2001 to 2007.
Questioning of whites declined progressively in 2008, yet Charest noted that blacks participated in only one-fifth of violent crimes in Montreal North during the last few years. Charest declined to say whether these measures constitute racial profiling, but suggested that police tactics might have "drastically increased the level of tensions between police and members of certain communities, black in particular."
"The fundamental question remains: Could it have been possible to anticipate or predict the riot in Montreal North, rather than elsewhere?"
Charest does not answer the question, but crunches numbers to indicate that it is possible.
Villanueva was shot after constables Jean-Loup Lapointe and Stephanie Pilotte drove into the parking lot at Henri Bourassa park to question a group of young men playing dice.
Within seconds, Lapointe had fired his gun five times, killing Fredy Villanueva, 18, who was trying to assist his brother Dany, and wounding two friends. The next day, riots erupted in the ethnically diverse neighbourhood
Lapointe has testified that he and other patrollers were under order to put pressure on presumed members of street gangs operating in the area.
Charest's first report, also recently accepted as evidence for the inquest, examined 163,000 police files between 2001 and '07. During that time, Charest found about 40 per cent of young black men in Montreal North and St. Michel had been stopped or questioned by police, compared with about five per cent
of young white males. He called the 40-per-cent figure "much too high" and more like a "fishing expedition."
In his second report, Charest noted that police had questioned twice as many blacks as whites for "weak" reasons -either as "routine" or based on the person being a "subject of interest."
Charest said he found it hard to believe that the presence of blacks in Montreal North's public spaces "suddenly quadrupled between 2005 and 2008 while its proportion of the population remained stable."
The reports were made public after Coroner Andre Perreault rejected arguments by police lawyers that they be suppressed.
The inquiry continues today.