French Police Unblock Fuel Depots as Refinery, Port Strikes Cut Supplies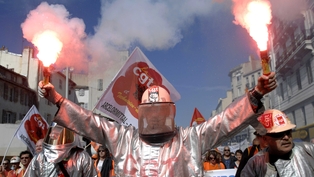 French police moved in to open fuel depots to release oil supplies blocked by strikers as walkouts at ports and refineries shut down crude imports and threatened shortages.
Police ordered protesters to lift barricades at a depot in Fos-sur-Mer near Marseille today to let trucks deliver fuel, a spokeswoman for the Prefecture des Bouches-du-Rhone said. Two other depots were also cleared, including one near Bordeaux, while others remain blocked, the CGT union said.
Oil import points at Le Havre, Marseille, and near Nantes have all been blocked by the labor action. The three points are the only means by which crude normally enters France, a spokesman for Union Francaise des Industries Petrolieres, the refiner's group, said today by phone from Paris.
Refinery and oil terminal workers have extended a strike over plans to raise the pension age and a dispute in Marseille over a port overhaul. A wider strike this week disrupted transport, schools, power supplies and other public services and is now largely confined to the fuel and ports sectors.
All French refineries have stopped deliveries because of the strike, said Charles Foulard, a CGT leader. Fuel consumption jumped 50 percent this week as motorists rushed to fill cars, according to Transport Minister Dominique Bussereau.
Paris's main Roissy-Charles de Gaulle airport could run out of fuel as early as next week, Agence-France Presse reported, citing pipeline operator Trapil.
"We aren't trying to cause fuel shortages," CGT Secretary General Bernard Thibault said on LCI television today. Police mustn't use "excessive" force, he said. "This isn't the way we will get out of this impasse."

Oil Reserves
Unions have voted to widen the strike again on Oct. 19, the eve of a Senate vote on President Nicolas Sarkozy's bill to raise the retirement age from 60 to 62. Sarkozy has refused to back down, and unions have walked out three times since mid- September. The lower house has passed the bill, and the Senate has approved key planks.
The strike, which brought as many as 1.23 million people to the streets in the nation of 65 million residents on Oct. 12, is now evident mostly in the rush to gas stations to stock up on fuel, television reports showed.

Fuel Reserves
The government will release fuel reserves held by oil companies to service stations, the National Road Haulage Federation, or FNTR, and the refiners' group, the UFIP, said yesterday.
France isn't drawing on strategic reserves, the International Energy Agency said in its monthly Oil Market Report. Instead it's switching reserves in areas where fuel is needed with commercial stocks elsewhere in the country so the total emergency stockpile remains the same.
France had oil stocks equivalent to 95 days of net imports at the end of July, according to the IEA. About 60 days of supplies are held as public stocks and the rest as strategic reserves "held by industry for emergency use," it said.
The labor action has blocked crude tankers at the Le Havre oil terminal, where the strike entered its third day, and at Marseille, now in the 19th day, port officials said.
Tankers also can't unload at the Donges refinery near Nantes or to a nearby pipeline, according to a spokesman for Compagnie Industriel Maritime, which operates the Le Havre oil terminal.

Refinery Closures
Le Havre supplies crude to Exxon Mobil Corp.'s Gravenchon refinery, Petroplus Holding AG's Petit Couronne plant as well as Total SA's Grandpuits and Normandy sites, he said.
Total, Europe's biggest refiner, has started to shut down units at Donges, Feyzin, Grandpuits, Normandy and La Mede as a result of the strike. Its plant near Dunkirk was halted last year and is slated for closure.
LyondellBasell Industries NV said yesterday it started to shut down its Berre refinery in southern France because of a lack of crude supplies. Petroplus Holdings AG is halting its Petit Couronne plant. The CGT union said Petroplus' Reichsett plant is also being stopped.
Exxon Mobil Corp. won't stop its refinery at Fos at the end of the week, according to Catherine Brun, a company spokeswoman. Deliveries are blocked by a strike there and production is disrupted by labor action at Gravenchon, she said.
Ineos Group Holdings Plc is operating its Lavera refinery at reduced rates, Richard Longden, a U.K.-based spokesman, said today by phone. "We're still monitoring the situation."
The strike at Marseille's Fos and Lavera oil terminals left 62 vessels stranded as of yesterday. These included 46 crude and refined fuel tankers and 10 gas transporters, according to a statement from the port.

French truckers urged to join strike
15 October 2010
The call ramps up the risk that President Nicolas Sarkozy's flagship reform will be derailed.
An official at the CFDT union said the strike call had been approved at a meeting late yesterday and that the action could start immediately.
Protests by truck drivers, who can block off major roads and access to key sites such as food warehouses, have crippled France's infrastructure in the past and forced governments to cave in on unpopular measures.
'We need those people who are able to make the government understand we won't accept any old thing to come out and do something,' Maxime Dumont, secretary general of the CFDT's trucking branch, told France Info radio.
French unions have meanwhile called a strike for 19 October, to add to protests and industrial action over pension reform that shut refineries, halted trains and brought tens of thousands onto the streets.
Students waving banners critical of President Nicolas Sarkozy demonstrated in several cities yesterday against reforms.
They say the reforms will worsen youth unemployment, however the government says they are vital to reorder a system losing billions of euro a year.
Mr Sarkozy's government has weathered five waves of strike action since June against its plan to raise the retirement age.
Analysts say the dispute may be near a cross-roads as unions attempt lengthier strikes and try for broader social support.
The first four strike waves involved 24-hour stoppages but the latest one has been prolonged since Tuesday as unions at sectoral level go more radical.

Strikers cut fuel pipeline to Paris

Refinery workers cut off a fuel pipeline to Paris today as protesters piled on pressure to derail French president Nicolas Sarkozy's unpopular pension reform.
Police broke up blockades at fuel depots in southern France but protesters blocked a terminal at Paris's Orly airport and truckers were set to join the fray as momentum built for a day of street rallies tomorrow.
A nationwide strike is planned on Tuesday, a day before the Senate is due to vote on a bill to make people work longer for their pensions.
The protests have become the biggest challenge facing the centre-right president, who is struggling with rock-bottom popularity ratings as he tries to appease financial markets by stemming a ballooning pension shortfall.
Turnout among striking rail workers dropped to 15 per cent today, from 40 per cent earlier in the week, but union leaders hope to galvanise the public for next week's action with the same force that saw a 1995 pension bill crushed by 24 days of protests. Next Tuesday's strike could hit various sectors.
"This movement is deeply anchored in the country," CGT union leader Bernard Thibault told LCI television.
"The government is betting on this movement deteriorating, even breaking down. I think we have the means to disappoint them."
France's main trucking union called on truck drivers to join next Tuesday's strike, though they may not be able to use their bosses' trucks to block roads.
The best chance Mr Sarkozy's opponents have of bringing down his pension bill is if strikes at oil refineries continue and start to threaten fuel supply, or if youths hit the streets en masse and set off violent scuffles.
A pipeline supplying fuel to the Paris region and its airports stopped operating today because of strikes at northern refineries, a source at the company operating the pipeline said, and motorists across France stocked up on petrol as depot blockades squeezed supply.
TV footage showed riot police using teargas to contain young protesters in the southern city of Lyon and in Paris police officers got orders to stop using flashball riot control pellets to quieten crowds after a secondary school student was badly injured on Thursday.
Students at hundreds of schools across France joined the protest movement in force from yessterday, shouting anti-Sarkozy slogans. Dozens have been arrested and today more were barred by riot police from nearing the prime minister's offices.
Polls show two-thirds of French people oppose Mr Sarkozy's plan to raise the minimum retirement age to 62 from 60 and lift the age at which people can retire on a full pension to 67 from 65.
The government has been at loggerheads with unions for months over the issue and five rounds of strike action since the summer have badly disrupted public transport and air travel.
The strikes have had negligible impact on France's economy but have sparked worries among financial analysts about whether France will struggle to push through broader austerity measures necessary to bring down its deficit.