Friday, 15 Octobe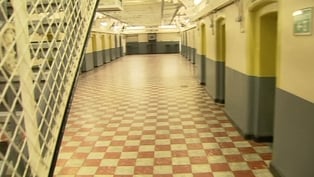 Three prison officers and an inmate were treated in hospital after a riot at Mountjoy Prison last night.
Gardaí and the Prison Service have begun separate investigations into a riot at Mountjoy Prison last night.
Three prison officers and a prisoner were taken to hospital following the disturbance, which was brought under control by officers in riot gear.
The disturbance began just after 7pm when a prisoner confronted a prison officer in the prison's A Wing.
The prisoner was refused permission to go to the exercise yard and returned with a pool cue and balls.
Two prison officers were then attacked. One was hit with the pool cue and the other was hit with a pool ball.
Both sustained head injuries and were admitted to the Mater Hospital.
The situation deteriorated when 74 prisoners moved out to the recreation yard and refused to return to their cells. They also armed themselves with weapons.
The Prison Service Control and Restraint team in riot gear, along with Alsatian dogs, were brought in and all inmates were returned to their cells by 9.30pm last night.
A third prison officer and an inmate were also injured and taken to hospital.

Calls to address prison overcrowding
Campaigners for prison reform say violence such as this is caused not just by the drugs problem in the prison but also by the chronic level of overcrowding there.
Executive Director of the Irish Penal Reform Trust Liam Herrick said serious overcrowding was at the heart of much of Mountjoy's problems.
Speaking on RTÉ's Morning Ireland, Mr Herrick said measures such as temporary release should be considered.
The Director of the Prison Service has praised the staff for the way they handled the situation.
The Prison Officers' Association said Mountjoy is in crisis and a solution must be found to the problems there as a matter of urgency.
Inmates at A Wing and B Wing were locked in their cells this morning.
Deputy General Secretary of the POA Eugene Dennehy said it is very difficult for prison officers to work in the prison and a very difficult and complex situation for all involved.
Seven prisoners were transferred from the prison following the incident.