October 14, 2010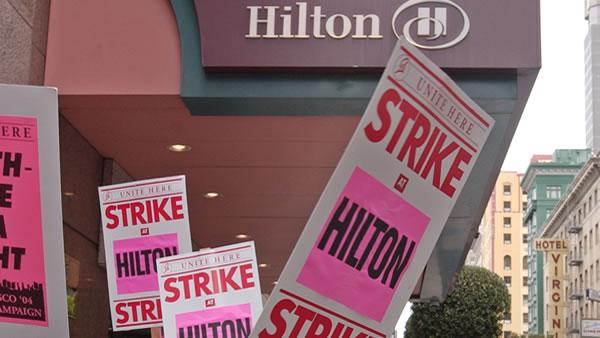 SAN FRANCISCO (KGO) — There is growing concern among hotel and business leaders about the continuing labor unrest in the city — and the effect that might have.
Hotel industry and business leaders held an unprecedented gathering on Thursday inside the Hilton Hotel, where workers are holding a 6-day strike.
The management's message was dramatic and they called the hotel employees union, "one of the leading threats to the economic recovery of San Francisco." Off and on for several years, the hotel workers have staged strikes and launched boycotts over salary and benefits. Their latest round comes after more than a year without a contract. On Wednesday, more than 800 workers at the Union Square Hilton Hotel walked off the job and will remain on the picket line for six days. The hotels say the action is harming the perception of the city and the "San Francisco experience." St. Regis Hotel General Manager Toni Knorr feels the repeated labor actions are disruptive. "We need to protect the reputation of the city. Our customers who've been to the city have commented on how disruptive this action is to them," she said. Patricia Breslin is head of the Hotel Council and believes what she calls the union's pattern of actions, sends the wrong message. However the Unite Here Local 2 union leaders say the tourism industry continues to thrive and they have been working without a contract since August of 2009. "San Francisco is a key destination because of the workers and the services they provide. People will continue to return and hotels need to recognize if they want business to return, they need to take care of their workers," Riddhi Mehta-Neugebauer said. "Conde Nast Magazine" recently rated San Francisco the top tourist destination in America for the 18th year in a row. Hotel Managers say leisure travel is just a tiny percentage of the industry business. About 80 percent comes from conventions that book years in advance and managers worry repeated labor issues will cause conventions to look elsewhere. "The experience right now outside the doors of this hotel [the Hilton] is not the experience or perception we want to give the rest of the world," said.