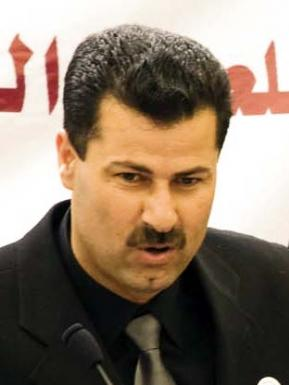 (CNN) — An Israeli military court has sentenced the leader of a West Bank protest movement to a year in prison for incitement and organizing illegal demonstrations amid criticism from the European Union and human rights organizations that the conviction was politically motivated.
Palestinian activist Abdallah Abu Rahmah, 39, was convicted in August for his involvement in organizing weekly protests against the route of what Israel calls its security barrier and what Palestinians call an apartheid separation wall. In a statement released at the time, the Israeli military said Abu Rahmah "was convicted of incitement and participation in an illegal riot."
Speaking before the sentencing, Abu Rahmah rejected the Israeli charges and vowed to continue his protest activities.
"We want to continue our struggle. We want to continue to have our rights until we will have freedom and independence to remove the wall, to remove the settlements, to remove all of these things and this illegal wall and arresting the people, and we will not stop because this is our right, this is our land. We must continue this until we have freedom."
Abu Rahmah already has spent 10 months in an Israeli military prison. Under the terms of the sentencing, he is expected to be released within 40 days.
International rights group Human Rights Watch said that Abu Rahmah's detention and trial raised serious concerns about violations of due process and that the sentence "essentially criminalizes peaceful expression by Palestinians protesting the de facto confiscation of their land,"
The case has attracted widespread attention. Upon Abu Rahmah's conviction, Catherine Ashton, the European Union's foreign policy chief, released a statement saying the EU viewed him as a "human rights defender" and expressing concern that his imprisonment might be "intended to prevent him and other Palestinians from exercising their legitimate right to protest against the existence of the separation barriers in a nonviolent manner."
Hundreds participate in the popular campaign against the wall every week. Protests in the West Bank village of Bil'in started five and a half years ago.
Residents say the wall cuts them off from their farmland and is a land grab. Israel says it needs the barrier for security.
The Israeli supreme court originally ruled in September 2007 that part of the fence near the West Bank village of Bil'in was illegal and needed to be moved to give residents some of their farmland back. The Israel Defense Force told CNN the work to move the fence started in February 2010, but residents say none of the fence has been moved.
Charges against Abu Rahmah of throwing stones during the demonstrations were dropped.
Abu Rahmah had collected tear gas canisters and weapons Israel used against the demonstrators, and made an exhibition of them in his garden. The Israeli military then charged him with weapons possession, a charge the court also threw out.
Organizers, backed by Prime Minister Salam Fayyad, say nonviolence is their best weapon to increase international pressure on Israel to end its occupation. But some Palestinian youths throw stones at the Israeli military during the protests, and the military fires stun grenades, tear gas canisters, rubber bullets and, sometimes, live rounds.
Both the military and the youths have been blamed for instigating the violence.
Organizers of the movement say they are unable to control youths who use their protests to throw stones.
Six protesters have been killed in Bil'in and the neighboring village of Nilin in the past 18 months, and hundreds have been injured, according to protest organizers. Israel says hundreds of its military personnel have been injured by stones.
Protest movement organizer Jonathan Pollock said the Israeli military was trying to make an example of Abu Rahmah to prevent others from demonstrating, but he said the tactic would not work.
"Hundreds and hundreds of arrests in the past year have not stopped demonstrations, and sentencing of a single person is not going to affect a movement."