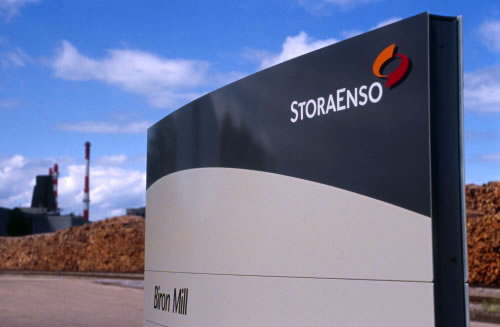 BEIJING, China — Environmental groups are accusing one of the world's largest paper companies of using land in China's south that was seized illegally from farmers by a local government, highlighting a problem that has fueled rural unrest and discontent across the country.
The report released Friday by the Rights and Resources Initiative, a non-profit group that promotes forest-use rights, and the Rural Development Institute does not accuse Finland-based paper manufacturer Stora Enso of forcing people from their land, but says a huge multinational should have known such abuses are common in China.
The report said that in the process of building eucalyptus plantations that total about 300,000 acres (120,000 hectares) across China's Guangxi province, Stora Enso signed contracts with the Beihai city government, which used force and other illegal means to obtain forest land from local villagers.
"Foreign companies like Stora Enso who boast of social responsibility, should know better than to use the local government as purchase managers rather than negotiating directly with farmers just to save time and money," said Li Ping, who co-authored the report.
"When the local government is involved and motivated by a large sum of foreign investment, it's likely that unreasonable force will be used to pressure farmers who depend on the land to survive."
In an interview with The Associated Press, Stora Enso communications senior vice-president Lauri Peltola said that mistakes were made in the process, and that the company is now looking over all its contracts in China.
"The report in many ways shares our view of the challenges we have faced in Guangxi and many of the ideas for improvement suggested by the report are already being implemented," said Peltola.
In China, where economic development is surging and land is high in demand, protests — some violent — fueled by illegal land seizures have grown common among farmers. Although the central government has drawn up laws to protect farmers and their land, implementation at the local level often proves challenging.
The study focuses on Hepu county in Guangxi's Beihai city, where Stora Enso gained rights to use nearly 55,000 acres (23,000 hectares) of land. After Stora Enso signed contracts with the local government, the study says officials seized the land belonging to farmers, many of whom were given little or no compensation.
Calls to the Beihai city government office rang unanswered. Finnish media outlets, such as the Helsingin Sanomat, reported last year that villagers and a lawyer representing the farmers in Hepu were beaten last April.
Stora Enso, which entered China in 2002, first knew of the problems in 2006, according to Andy White, a co-ordinator for the Washington D.C.-based Rights and Resources Initiative, but failed to seriously address them until 2009.
Peltola said the company is in the process of reviewing previous contracts — nearly 2,300 contracts have already been reviewed — and Stora Enso plans to work with all parties in the future to discuss, negotiate and agree on terms.