NEWARK, N.J. — Longshoremen remain on strike at ports in New Jersey and New York despite a judge ordering them back to work.
New York Shipping Association spokeswoman Beverly Fedorko says the work stoppage entered its second day Wednesday.
Twelve ships waited to be unloaded in New York and New Jersey on Tuesday. Fedorko says passenger ship terminals on New York's west side were not affected.
The association says the action by International Longshoremen's Association members is related to a protest over the move of some work done by ILA workers in Camden to a non-ILA facility in Gloucester.
Florida-based Del Monte Fresh Produce said it decided to move operations because it needed more space.
Longshoremen said the company was trying to undercut the union.

Protest shuts down NY, NJ ports for 2nd day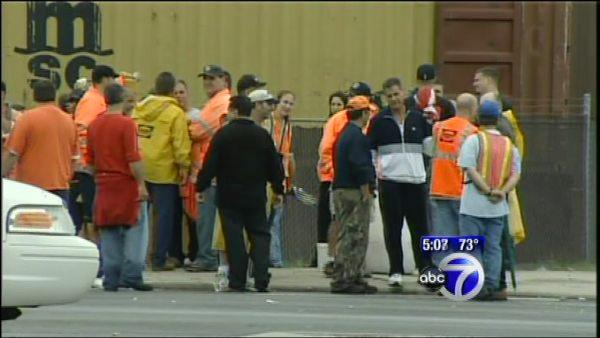 JERSEY CITY (WABC) — Trucks backed up on roads surrounding the region's cargo ports as union workers blocked gates for the second day.
An increasingly long line of trucks clogged the streets around the Port Newark-Elizabeth Marine Terminal complex Wednesday morning, which was not accepting any deliveries or pickups.
The Global Terminal in Bayonne, the Howland Hook container port on Staten Island and a Brooklyn port were also closed by the union action.
The workers, with the International Longshoremen's Association, were honoring picket lines set up in sympathy to fellow workers who lost their jobs at a bulk cargo terminal in Camden to a non-union facility.
A federal judge labeled the action illegal Tuesday afternoon, and ordered the workers back. But the Port Authority, which runs the ports, issued a permit to the protesters that allows them to stand outside the gates again Wednesday.