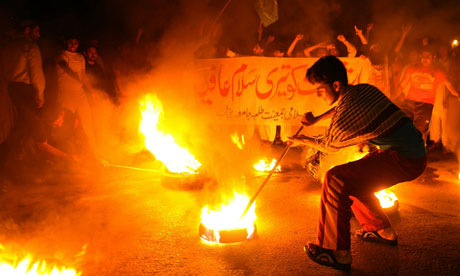 Pakistani police used tear gas yesterday to disperse protestors who shouted "Death to America" in outrage after a U.S. court jailed a woman scientist for 86 years for attempting to murder U.S. officers.
With passions over the case running high, the government said it would petition Washington to secure the repatriation of the mother of three on humanitarian grounds.
A New York court found Aafia Siddiqui, the once-brilliant scientist dubbed "Lady Qaeda" by the U.S. tabloids, guilty of the attempted murder of U.S. military officers in Afghanistan in 2008, five years after she disappeared.
In Karachi, her home town and Pakistan's largest city, police fired tear-gas shells to prevent people from marching on the U.S. consulate. At least 14 people were arrested after hundreds of anti-riot police were deployed. Hundreds more took to the streets in Pakistan's second largest city of Lahore.
The U.S.-trained neuroscientist was arrested in Afghanistan in mid-2008 on suspicion of having links to the al-Qaeda terrorist network.
Investigators found she was carrying in her purse instructions on making explosives and a list of New York landmarks, including the Statue of Liberty, the Brooklyn Bridge and the Empire State Building, The New York Times reported.
Siddiqui, 38, who studied at the Massachusetts Institute of Technology and Brandeis University, was found guilty of grabbing a rifle at an Afghan police station where she was being interrogated in 2008 and trying to shoot U.S. servicemen.
Prosecutors said she picked up the weapon and opened fire on the servicemen and Federal Bureau of Investigation agents who were trying to arrest her. She missed and in the struggle was shot by one of the Americans.
Her lawyers argued there was no physical evidence, such as finger prints or gunpowder traces, to show she had even touched the rifle.