21 September 2010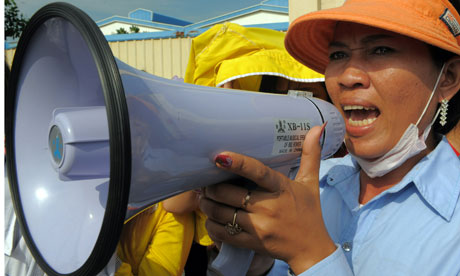 Strikes by about 200,000 Cambodian textile workers – mainly women – in the capital Phnom Penh and the provinces, in protest over low wages, were suspended after three days last week.
The action followed the announcement in July that the minimum wage for workers in the garment and footwear industry would rise from $50 to $61 a month. The level of the rise outraged trade unions, prompting demands for $93 a month.
Last week's industrial action ended peacefully, but strikers threatened to further action if their demands were not met. "We are not demanding a minimum wage, we want a living wage," said Ath Thorn and Kong Athit, of the Cambodian Labour Confederation.
Their demands are supported by a study published last year by the economist and head of the Cambodian Development Institute Kang Chandararot. He said garment workers could only make a living by doing overtime so were closely dependent on the economic climate. He proposed a viable minimum wage of $90.
Cambodia was hard hit by the international crisis in 2008. Textile exports to the US and Europe, the country's main markets, fell by 23% in 2009. More than 90 factories, often owned by Chinese or Taiwanese operators, closed, laying off about 60,000 workers out of a total of 345,000 in the trade. Conditions in the first half of 2010 have improved, with a 7% increase in exports, but business is still far below its level three years ago. Above all there is still no overtime, prompting the massive strike turnout.
"New demands are surfacing now, after two relatively quiet years, because the worst of the crisis is past and exports are picking up," said Jean-Raphaël Chaponnière, an economist at France's Development Agency (AFD).
François-Marie Grau, the General Secretary of the Women's Clothing Federation in Paris, endorses this view. "What is happening in Cambodia is symptomatic of widespread upward pressure on manufacturing costs all over Asia. The region is enjoying powerful growth so workers are putting pressure on their employers," he said.