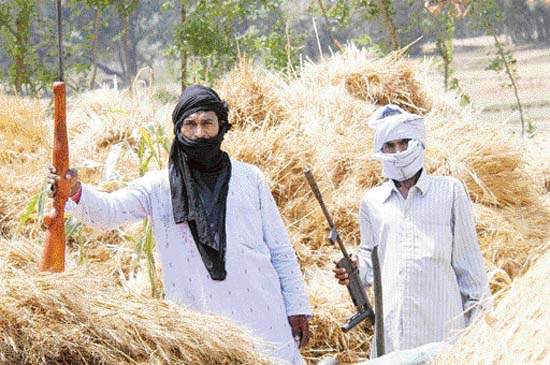 Maoists kill Orissa village guard
2010-09-18
Bhubaneswar, Sep 18 (IANS) Maoists killed a village guard in Orissa's Malkangiri district early Saturday, accusing him of being a police informer, an official said.
More then 30 armed rebels dragged the guard, Lalit Hantal, from his home in Rajabandha village and killed him in a nearby area, a police officer said citing preliminary information from the region.
'Police personnel are on their way and details of the incident would be known once they reach,' he said.
Malkangiri district, some 640 km from state capital Bhubaneswar, is considered a Maoist stronghold.

Maoists creating insecure environment: Govt
TNN, Sep 18
NEW DELHI: Slamming the Maoists for "despicable" and "desperate acts" of violence that killed 11 civilians, the Centre on Friday said an environment of insecurity has been created by the Naxals.
In a statement, the government gave details of the violence perpetuated by Naxals on September 13 and 14 during a bandh called by them. The statement listed 14 incidents in which 11 civilians and two security personnel were killed. Out of the 11 civilians, three were branded as "police informers" including a doctor in Rajnandgaon, Chhattisgarh.
"This is creating an insecure environment which would result in further shortage of doctors in remote areas, where their services are badly needed," a home ministry statement said.
It added that while on one hand, CPI (Maoist) argue about lack of development in remote areas, on the other hand, the outfit continues to damage or destroy infrastructure in these places. "During their two-day bandh, they damaged, among others, a forest beat house at Chandiposh (district Sundergarh) in Orissa, a railway track in Muzaffarpur district and electronic equipment and generator set of a mobile tower in Gaya. They also set ablaze a bus in Sheohar district in Bihar. The government condemns these despicable and desperate acts on the part of CPI (Maoist), and reassures its commitment to root out this menace in its entirety," the statement added.

CPM leader shot at in Jhargram
TNN, Sep 18
JHARGRAM: In the first ever Maoist attack in Jhargram town, a Midnapore town local committee member of CPM and former councillor Gour Poichha was shot at by some masked Maoists who came on a motorbike on Friday morning. Poichha has been instrumental in setting up a people's resistance committee against Maoists that had been doing night patrols in the town.
The incident happened around 7am when Poichha was taking tea at a stall after a morning walk. The person riding pillion first fired at him from behind and missed. When Poichha started running, the Maoists on motorbike blocked his way from the front and pumped bullets to the right of his chest and another a little below his ear. He fell on the road, bleeding profusely.
His relatives and neighbours took him to Jhargram hospital from where he was shifted to SSKM Hospital.
Two months ago, Maoists attacked Poichha's house at Balaramdihi. He had managed to flee through the rear door.

Folk singer arrested for being Maoist linkman
September 18th
Kolkata, Sep 18 (IANS) A folk singer, suspected of being a Maoist linkman, was arrested Saturday in West Bengal's West Midnapore district, police said.
"Ajit Mahato of Golbandi village near Manikpara in Jhargram sub-division of the district was arrested for acting as Maoist informer. He was detained by the joint forces during a search operation in Manikpara area Saturday morning and arrested after interrogation," Jhargram Superintendent of Police Praveen Tripathi told IANS.
"Mahato, a folk singer by profession, used to pass on the information regarding the movement of the joint forces to the ultra Left leaders. He used to give shelter to them," a senior police officer said.
Meanwhile, the joint forces conducted a search operation in Manikapara and its adjacent areas following incidence of Maoists menaces in Jhargarm in past few days.
Ultra Left rebels are active in three western districts of the state – West Midnapore, Bankura and Purulia.