September 02, 2010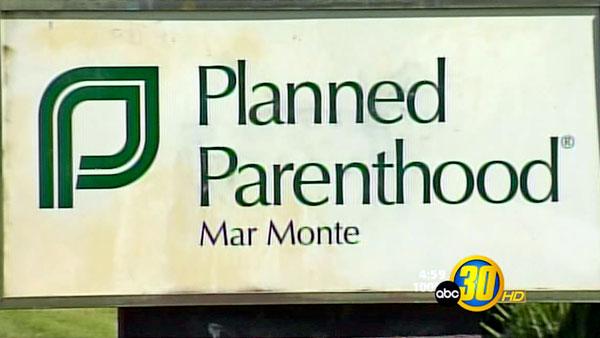 FRESNO, Calif. (KFSN) — Madera's Planned Parenthood clinic is closed Thursday after someone firebombed it with a Molotov cocktail. The FBI is investigating this case as it continues to search for clues in an attack on a mosque last week on the other side of town.
This Planned Parenthood clinic in Madera has been open for 20 years and officials here say they've never seen any kind of violent crime before.
Madera Police are investigating the crime but they're also getting help from the FBI who also happens to be investigating another crime in Madera at the same time.
Burnt blinds on the grass and a boarded up window show the damage caused by a firebombing attack early Thursday morning.
"Upon arrival responding officers discovered that Planned Parenthood had been attacked by an unknown person with an incendiary device." said Madera Police Chief Michael Kime.
Madera Police do not have anyone in custody but a spokesperson with Planned Parenthood says she has a good idea of who it might be.
"I believe it's extremists who are, want to make a statement." said public affairs director Pasty Montgomery.
This attack comes just one week after someone targeted a local Muslim mosque across town. Investigators found a brick thrown through the window and anti-Muslim signs posted on the walls.
Local Muslim leaders on Thursday night held a news conference to denounce the hate crimes against them.
"And this is a message to those bigots, that anytime you attack a community we all come together united as one." said Basim Elkarra from the council on Islamic American relations
The U.S. Attorney's Office also told reporters they are working with the FBI to prosecute those responsible for the mosque crimes.
The FBI is also investigating what took place at Planned Parenthood because it's classified as a medical clinic. But authorities at this time aren't connecting the two crimes.
Ruth Gadebusch attended the mosque news conference and is also a supporter of pro-choice rights for women in the Valley. She's outraged that more tolerance isn't being practiced by those with different views.
"It's a terrible message. If you have a message to send there are better ways to do it. There are peaceful ways and in this nation we need to learn to respect views that differ from ours." said Ruth Gadebusch from the National Women's Political Caucaus.
Staff members do perform early term medication abortions, but we're told those procedures make up less than one percent of the services offered there.
This Planned Parenthood clinic will remain closed through Labor Day weekend and re-open on Tuesday.