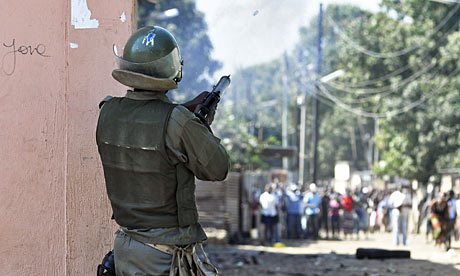 MAPUTO, Sept 2 (Reuters) – Mozambique's government deployed soldiers to clear barricades as angry protesters on Thursday blocked roads and looted shops in the capital for the second day of deadly riots sparked by soaring bread prices.
Mozambique's cabinet was meeting in an emergency sitting while police said the army was sent into the capital Maputo to help clear barricades erected by thousands of protesters.
"The army was called to clean the city (of barricades) and not to restore order and public security," Pedro Cossa, spokesman of the general police command told state-controlled Mozambique Television TVM.
The sight of soldiers on the streets could scare off protesters and prevent further riots in which six people, including two children, were killed as police opened fire on protesters in the worst riots to hit the southern Africa country of 23 million people since 2008.
Mozambique's Health Minister Ivo Garrido said on Thursday six people were killed and 100 injured in the riots, private television station Stv reported.
The rioting was prompted by a 30 percent rise in bread prices in one of the world's poorest countries, which has never fully recovered from one of Africa's bloodiest civil wars and has a 54 percent unemployment rate.
After the price increase, a breadroll — known as pao and the bread staple of Mozambicans — costs 20 U.S. cents in a country where the average worker earns around $37 a month.
Most businesses in the capital were closed on Thursday and at the few bakeries that were open, people waited in long queues.
Despite its poverty, Mozambique is one of the fastest growing economies on the world's poorest continent and the IMF expected the economy to grow by 7 percent this year. Its main exports are aluminium, electric power, coal and agricultural products including sugar.
Mozambicans say they have been hit hard by rising costs for basic necessities including bread, as wheat prices have soared around the world. The Food and Agriculture Organisation of the United Nations said on Wednesday that international food prices were at their highest level in two years.
"I opted to join the protests because life is very difficult with these hikes, the government has turned a deaf ear to our long grievances, they only need us during election time," said Teofilo Pedro, a resident of the industrial surbub of Matola on Maputo's outskirts.
Analysts have warned rising food prices could spark protests in Africa and the Middle East and in recent months Egypt saw a number of protests over food prices.
POVERTY
An estimated 70 percent of Mozambique's population live below the poverty line, according to the CIA World Factbook, and the country is heavily dependent on imports from South Africa, which have become more expensive in recent months as the South African rand currency strengthened.
Home Affairs Minister Jose Pacheco said the government was trying to identify the source of text messages and emails which have been circulating since Tuesday, urging residents to join the protests. No order to use live ammunition was given, he added.
Other top police officials said live ammunition was used in some places after police ran out of rubber bullets and citizens also reported that real bullets were fired.
Human rights group Amnesty International called on Mozambican police not to use live ammunition.
"While we recognise that the police are trying to contain a violent protest, live ammunition — which amounts to lethal force — should not be used except when strictly unavoidable in order to protect life," Muluka-Anne Miti, Amnesty International's Mozambique researcher, said in a statement.
Mozambique's opposition Renamo party also criticised police for using live ammunition.
Private television station STv reported 10 deaths, about 140 arrested, 27 seriously injured and 32 shops, including banks, looted.
"I cannot risk going to work, police are heavily armed and indiscriminately firing live bullets because they think everyone is involved. It is too dangerous and I'm stranded here," said Gerson Marcos, a resident in Magoanine, a densely populated suburb on the outskirts of Maputo.
President Armando Guebuza condemned the killings and destruction of property and called on Mozambicans to restore order, adding the government had made progress in implementing its strategic plan to improve food production, infrastructure and provide running water and better schools.
The violence was the worst since 2008 when at least six people were killed in protests over high fuel prices and living costs. The government agreed at that time to cut the price of diesel fuel for minibus taxis.