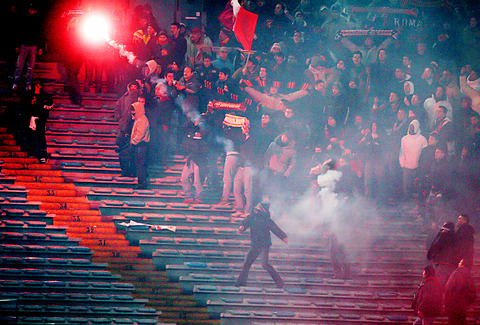 August 28
PROTESTS against a new electronic entrance card at Italian football stadiums — intended to curb hooliganism — has exploded into violence.
Some 500 fans stormed a political meeting, hurling petrol-bombs and setting cars alight.
The open-air meeting near Bergamo was being addressed by Interior Minister Roberto Maroni. Mr Maroni said the behaviour of the protesters — Atalanta fans known as "ultras" — underlined the need for anti-hooliganism measures such as the identity card.
"I have nothing against football fans and am happy to talk to them," Mr Maroni said. "But these were not real fans, they were violent thugs."
The violence comes on the eve of the resumption of Serie A matches tonight.
The protesters threw firecrackers, smoke-bombs and bottles filled with nails at the rally in Alzano Lombardo, near Bergamo. The rally was being held by the Northern League, of which Mr Maroni is a leading member.
The League is a coalition ally of Prime Minister Silvio Berlusconi, who is fighting to prevent a rebellion in parliament next month by followers of Gianfranco Fini, Speaker of the lower house, which could bring his coalition down mid-term.
Five fans were arrested and a number of police officers were hurt during the clashes, in which a police car was burnt.
Mr Maroni spearheaded the campaign to introduce the electronic card, which has led to resentment on the terraces. Last weekend fans held up a match between Inter Milan and AS Roma for five minutes by staging a protest.
Mr Maroni said that the protesters at Alzano Lombardo would be "identified and severely punished". The violence, which lasted for 20 minutes, began just as Mr Maroni had started speaking.
Giancarlo Abete, the president of the Italian Football Federation, said he was standing by the ID program even if it meant fewer fans at the stadiums and a drop in ticket sales.
"The problem with football isn't having more or less spectators, it's battling violence, and if we need to pay these prices, so be it," he told RAI, the Italian state radio.
The centre-right coalition has taken a tough stand on law and order. Last weekend Mr Maroni said he favoured expelling not only illegal immigrants from outside the EU but also EU citizens who had "violated basic requirements for living in Italy".
He said French President Nicolas Sarkozy was "copying Italy's model".