8/8/2010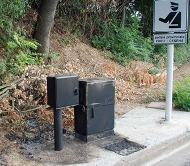 Italy vigilantes damaged a speed camera on Tuesday night. The automated ticketing machine located on Via Del Partigiano turned black from the flames, but provincial officials insisted the device's inner workings survived. Police have no idea who might be responsible.
"We condemn with all possible firmness the act of vandalism that targeted a newly installed fixed speed cameras," provincial administrator Maurizio Brunelli said in a statement.
A speed camera in Nointel, France was likewise set on fire last Sunday at around 8:30am, Le Parisien reported. The device located on the N31 near Compiegne-Beauvais has been a frequent target of vigilantes. In March and April the same camera had been painted white and then pink. This time, the camera housing was opened before being set on fire.