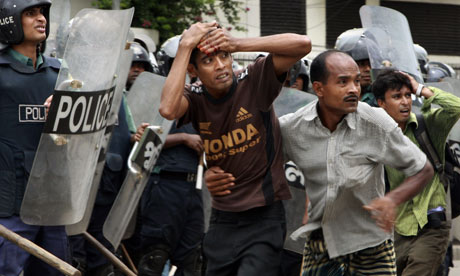 Sat Jul 31, 2010
DHAKA (Reuters) – At least 100 people were injured when garment workers attacked factories and vehicles in Bangladesh on Saturday in a second day of protests to demand higher wages, police and witnesses said.
Police fired rubber bullets and used teargas and batons against workers blocking roads in the capital Dhaka's suburbs.
This week the government set the minimum monthly wage to 3,000 taka ($43). Workers are demanding 5,000 taka.
Prime Minister Sheikh Hasina made a plea for calm.
"Who will benefit if the (garment) industry is destroyed? The workers should not involve themselves in any activity that might put their own source of bread at risk," Hasina's press secretary, Abul Kalam Azad, quoted her as saying.
The garment industry is Bangladesh's second biggest employer after agriculture, and accounts for more than 80 percent of the impoverished country's annual export earnings of $16 billion.
Saturday's protests started in Ashulia, an industrial area 30 km (19 miles) north of the capital.
"Several policemen were also injured, as they clashed with workers, trying to dispel attacks on their vans," a local newspaper reporter at the scene told Reuters.
The workers beat and seriously injured a cameraman working for a local television channel when he tried to film them. They also damaged and looted machines and ready-to-wear garments from a number of factories, witnesses said.
Police have so far detained 25 people.
Protesters also blocked a road at Fatulla, 16 km east of Dhaka, and more than 50 people were hurt in clashes with police.
BLAME
Protest leaders blamed police for sparking violence by assaulting workers during peaceful rallies.
Begum Khaleda Zia, former prime minister and chief of the main opposition Bangladesh Nationalist Party, speaking at a party meeting blamed "wrong government policies for the ongoing anarchy in the garment sector."
Leaders of Bangladesh Garment Manufacturers and Exporters Association (BGMEA) demanded order be restored and threatened to close down factories if vandalism continues.
"We will be compelled to close down factories if government fails to give us protection," BGMEA vice president Faruque Hassan told Reuters. He said criminals disguised as workers had looted factories and wayside shops during the clashes.
BGMEA represents some 4,500 garment factories, that employ more 3.5 million workers, mostly women.
Bangladesh-based factories make garments for international brands such JC Penney, Wal-Mart, H&M, Kohl's, Marks & Spencer, Zara and Carrefour.

Bangladesh Garment Workers Protest Recent Wage Hike
30 July 2010
Thousands of garment workers in Bangladesh blocked roads and vandalized buildings in the capital, Dhaka, Friday after a recent wage hike offered by the government fell short of their demands. The country's garment workers are among the lowest paid in the world.
The government announcement that nearly three million workers in the garment sector will have their monthly wages nearly doubled from about $25 to $43 was expected to calm workers who have led months of protests demanding higher wages.
But it has triggered more violent protests. On Friday, a day after the government formally announced the wage increase, thousands of workers blocked highways and traffic in the capital Dhaka. They pelted garment factories with stones, and vandalized buildings. Riot police used tear gas and baton charges to disperse the protesters.
The workers are angry because the 80 percent raise is less than the nearly three-fold hike they had demanded. They say the wages recommended by the government would still be too inadequate, and are demanding a better offer.
Bangladesh has more than 4,000 garment units making clothes for major Western brands such as Wal-Mart, and Zara.
Economist Mustafizur Rahman, director of the Center for Policy Dialogue in Dhaka, says the huge rise in living costs in the last four years is hurting workers.
"The workers real wages had gone down because of the price hike, and so there was a genuine demand," Rahman said. "Although what has happened is below their demand, so there may still be some discontent on that side."
The garment industry says a massive increase in wages will increase production costs and make it less competitive.
The low wages had helped Bangladesh's industry compete effectively with other major garment producers in Asia, such as China and Vietnam.
But it was widely acknowledged that the workers wages are too low. Earlier this month, the country's Prime Minister, Sheikh Hasina, told parliament wages in the sector were not only inadequate but also inhuman.
The government had hoped that nearly doubling the wages will improve matters.
Bangladesh's garment industry is the country's main export earner, and earned $12 billion last year.