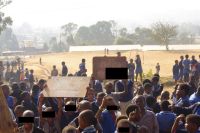 Close to 20 police officers were dispatched to maintain peace and order at the school as pupils ran riot and boycotted classes demanding that they be allowed to travel to Durban for a trip they had paid for.
In particular the pupils sang derogatory songs about Mamba as well as a 'struggle' song made famous by African National Congress Youth League (ANCYL) President Julius Malema.
The song was recently banned in South Africa after it was felt that it heightened racial tensions.
Yesterday, enraged pupils chanted the name of their principal, Mandla Mdluli, whom they said should be brought back while their second deputy principal be sacked.
What sparked the protest was an announcement by the trip's organising committee members during morning assembly that it had been cancelled.
This did not go down well with the pupils who immediately went on a boycott and sang political songs while engaging in the famous toyi toying.
So serious was the situation at the school that only the intervention of Regional Education Office (REO) officials calmed the situation. The officials held a meeting with the pupils and asked what they wanted before having a lengthy meeting with the teachers.
During the meeting with the pupils at the school assembly, they made it known that they wanted Mamba to be fired as well as the reinstatement of their suspended principal.
The principal also demanded that they be allowed to go on a trip to Durban.
The officials from the REO said they would take the pupils concerns and then give them feedback at a later stage.
…deputy principal asks for police protection
Mamba, the school's second deputy principal, asked for police protection from the rioting pupils who were singing derogatory songs against her.
Mamba was escorted by Manzini station commander and another unidentified police officer.
Mamba had earlier sought refuge in a church and did not come anywhere near the school fearing that the pupils could harm her.
Teachers watched in dismay as the protesting pupils chanted the name of their suspended principal while displaying placards that demanded that he be reinstated.
Mamba was last week almost manhandled and driven out of the school by teachers who felt that she was colluding with people who had put the school into problems.
The rioting pupils protested right up until around 11am when officials from the REO met with the pupils and subsequently the teachers.
A parents meeting has been called at the school tomorrow.