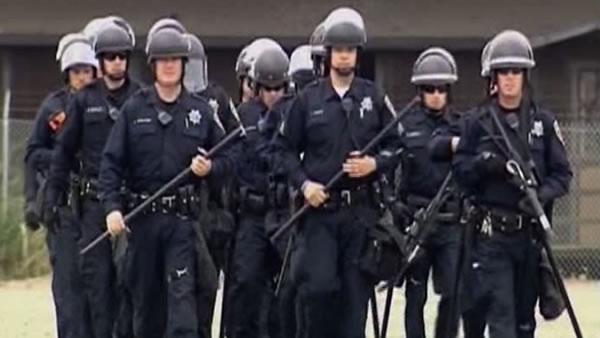 OAKLAND, CA (KGO) — With the Johannes Mehserle trial nearing an end, the potential for unrest has police and business owners in Oakland taking action now. Starting today, all Oakland police officers are working 12-hour shifts.
While the police gear up, merchants in the Fruitvale district are boarding up just in case.
Oakland police have set up a large staging area near the Port of Oakland. It includes communications vehicles from agencies as far away as Fremont and San Ramon.
Related Content
link: Places to express yourself after Mehserle verdict
More: Follow trial updates on Twitter
Story: Judge rules against first-degree Mehserle verdict
Story: Defense rests in Mehserle murder trial
Story: Ex-LAPD captain testifies in BART shooting trial
"We just want to make sure we have enough staff on site, so that if civil unrest does happen, we're prepared to address that," Cynthia Perkins from the Oakland Police Department said.
At a Fruitvale health clinic, officials aren't taking any chances. Besides all the plywood, the clinic plans to close completely once the verdict is reached.
"In order to prevent or mitigate any possible harm to our staff and our patients, we should really leave this area on the day of the verdict and close down our building and move out of the area, so that's what we're planning to do," Tracy Mendez from Clinica de la Raza said.
At the nearby Fruitvale BART station, windows have also been boarded up and there are now big cement barricades on the street.
The fear is that even a peaceful demonstration could turn into something much more destructive, like the riots that occurred after Oscar Grant was shot last year.
While some might see all the police preparations as good planning, others worry it might be sending the wrong message to the community in terms of what's expected after the verdict.
"The message that could be sent is 'we are ready for you guys, we are going to bring out our guns' and you know, people can feel a little intimidated and a little threatened," Fruitvale resident Belinda Salter said.
If the Mehserle verdict isn't reached this week, police will use the staging area as a base of operations through the weekend to combat all the illegal fireworks celebrations that traditionally pop up in Oakland during the July 4th holiday.