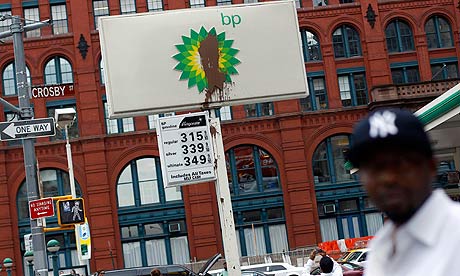 The distinctive green sunflower logos on petrol pumps are becoming a liability. Franchisees at BP fuel stations across the US are anxious to distance themselves from the British oil multinational as the Deepwater Horizon spill sparks vandalism, a drop in trade and occasional "hate" from customers.
Although the situation is highly variable, anecdotal reports from the 12,000 BP-branded service stations on American highways are of patchy falls in business of 10% to 20% since oil began gushing into the Gulf of Mexico from BP's ruptured Macondo oil well a mile beneath the ocean off Louisiana.
A consumer group, Public Citizen, is calling for a three-month consumer boycott. BP logos have been smeared with mud in New York. One BP petrol station in Mississippi has even had gunshots fired through its windows in the middle of the night, in an apparent protest without any attempt at a robbery.
In the gritty New York neighbourhood of Bushwick, Raja Bindra, a petrol station manager, said he had had his fair share of abuse since oiled birds and tarballs began washing up on US beaches: "People come in and say 'what the fuck are you doing working here?' They are the ones that have no knowledge. The ones who understand what's going on, they don't speak of it."
Bindra tries to explain to customers that his petrol station is a local business that simply has a contract to buy petrol from BP, and that he is not an employee of the British company: "We try to tell them that BP is not us. We are a franchisee."
More than 90% of BP service stations in the US are independently owned but tied to a long-term deal requiring them to sell BP fuel. The oil company built up its extensive US retail network when it bought Standard Oil of Ohio in 1987, then merged with Amoco in 1998.
Alert to the difficulties faced by retailers since the spill erupted two months ago, BP has offered them forecourt signs declaring that they are "locally owned and operated". A BP spokesman said the company was working on a package of financial measures including cuts to credit card fees levied on retailers by BP and an increase in bonus awards for meeting sales targets.
Some are loyal to the company. Mark Sapozhnikov, the owner of a New York petrol station that had brown paint daubed all over its BP sign, said: "I feel bad for that guy Tony Hayward."
Sapozhnikov said he had always had "excellent" service from BP. He added: "I've got a customer base that understands I'm not the one who caused the spill."
Industry experts point out that fuel purchased at BP service stations does not necessarily contain oil from BP wells. The crude extracted by oil corporations is intermingled at refineries and by the time it reaches the pump, it is indistinguishable by origin. The only variable factor between BP, Exxon, Shell or Chevron petrol is a detergent package, unique to each brand, that is added at distribution terminals to inhibit corrosion and ensure chemical stability.
"There's really no way anybody who sells gas can say with any assurance where that gas is coming from," said Jeff Lennard, a spokesman for the US National Association of Convenience Stores, which represents fuel retailers.
A boycott at the pump is unlikely to hurt BP's finances significantly – only a small part of BP's $246bn (£164bn) in annual revenue is from US petrol stations. There is no lack of demand and oil can be rerouted, if necessary, to industry or other parts of the world.
Still, the activist group Public Citizen said it was disingenuous for petrol stations to downplay their ties with BP. Its president, Robert Weissman, said the company needed to be punished for "reckless and egregious conduct" alleged to have caused April's explosion on the Deepwater Horizon rig.
"BP's franchisees enter into agreements with BP because they want to benefit from an attachment to the BP brand," said Weissman. "If consumers are told they can't take action against wrongdoers like BP, that's an immunity for large corporations from the consequences of their actions."
On Facebook, more than 733,000 people have signed up to a "boycott BP" page. But at BP petrol stations in New York, many motorists were sanguine about their choice of petrol station.
"Gas is gas, to be honest," said Hector Gonzalez, a sailor in the US navy, who said he did not condone BP's conduct. "They should have had a system in place where they could see this coming. In the military, we've got to plan, plan, plan – we've got to have a plan for a plan."
Nancy Lopez, a prison officer about to fill up her tank at a BP petrol station in Williamsburg, admitted she had "reservations" about choosing BP and after being interviewed by the Guardian, she chose to go elsewhere to buy petrol.
"A lot is not being done as it should be in the Gulf," said Lopez. "I don't think I should be buying gas from here."