7 June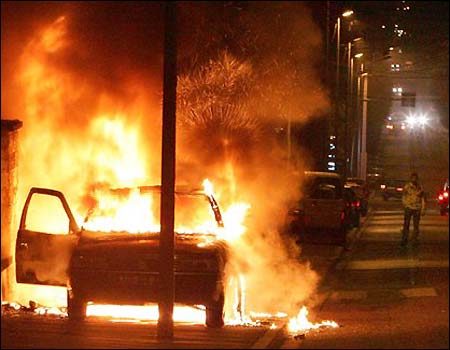 Though Europe's social model proved "resilient" against the economic crisis, it must be "corrected" to prevent increasing social unrest, EU Employment and Social Affairs Commissioner László Andor told EurActiv at the fringes of a meeting with EU trade unions and employers.
EU finance ministers agreed on 9 May to establish a rescue mechanism worth around €750 billion to protect the euro from collapsing under the weight of debt accumulated in countries such as Greece, Spain or Portugal (EurActiv 10/05/10).
Crisis-hit EU countries have adopted highly unpopular austerity measures, which in the case of Greece sparked violent street protests (EurActiv 05/05/10).
The European Commission has developed a blueprint for growth, the 'Europe 2020' strategy, which it believes will set Europe on the path to economic recovery. As reported by EurActiv, a number of stakeholders have argued that the Europe 2020 strategy does not have a sufficiently strong social dimension in its current guise (EurActiv 10/03/10).
The term 'European social partners' refers to those organisations at EU level which are engaged in the European social dialogue, as provided for under Articles 154 and 155 of the EU Treaties.
Andor confirmed that the European Commission has a "real concern" about social unrest in certain countries where the "financial panic has been out of control".
He described the need for tough austerity measures in hard-hit countries such as Greece as "inevitable", adding, however, that EU financial support should help to prevent any severe escalation.
Andor said that these risks should not affect other countries "where this panic doesn't apply and social unrest can be constrained".
Specifically, it is essential to maintain a strong social dialogue and fully involve social partners in the development of future plans, he said.
Likewise, he said it was vital to bring forward a convincing strategy for growth and jobs, which is why he believes it is "crucial" that EU leaders give political approval to the Commission's Europe 2020 strategy at a 17 June summit in Brussels.
In response to the escalating risk of social unrest, he said the EU must continue to reform and "correct" the European social model, as this is the only way to "preserve peace" in the long run.
Sense of urgency 'missing', say social partners
Andor was speaking to EurActiv on the sidelines of a 4 June meeting with EU 'social partners', who were presenting the final input of workers' unions and employer organisations to the 'Europe 2020' strategy for growth and jobs.
Workers and employers joined forces in agreeing that an ambitious growth strategy is the only way to ensure economic recovery.
However, Philippe De Buck, director-general of BusinessEurope, said European employers feel a sense of urgency was missing from the strategy.
Changes difficult to swallow


Andor argued that while some changes might be difficult to swallow for European citizens, the European way of life in its current form would have to change, for example through people working later in life.
"We have to appreciate that Europeans are living longer, and of course social security systems have to be adjusted to this demographic fact," he said, though he added that "working longer doesn't necessarily undermine quality of life".
While some structural changes are inevitable, Andor argued that the European social model has proven "quite strong and resilient and has helped people in the face of this crisis". The automatic stabilisers and social security mechanisms are "very much appreciated" by EU citizens, he claimed, praising the EU's anti-crisis efforts.
Discussions on these changes are around the corner, he told EurActiv, starting with the launch of a dialogue on social security.
On 23 June, together with Commissioners Michel Barnier and Olli Rehn, Andor will launch a Green Paper on Pensions, though he cautioned that the latter "is going to be a longer-term discussion, because we don't like to make improvised decisions on issues that will affect the structure of society".
Positions
Philippe De Buck, director-general of BusinessEurope, said that while "we are with the trade unions when it comes to supporting a growth strategy," the employers federation believes it would be a mistake to make companies the "victim of stoppages and social unrest at this point when we need economic recovery so badly".
Meanwhile, trade unions expressed "despair" at the economic policies being pursued in Europe at the present time.
John Monks, European Trade Union Confederation (ETUC) general-secretary, argued that the massive cuts in public expenditure "all happening at the same time" across Europe would destroy any prospects for growth. Too many simultaneous austerity measures will simply not work, he claimed. "Slashing spending while still suffering from low growth and high unemployment is crazy," he stressed. He added that ETUC's main point is "to warn of social unrest if the agenda is cuts, cuts, cuts and 2020 is just words, words, words".
European Commission President José Manuel Barroso responded by underlining the necessity of these measures in the current climate, saying that confidence was required for growth to take place, and confidence would not return "until we get our house in order". He said the EU's social model had proven its merits. "We managed through social dialogue to preserve many jobs, proportionately much better than the USA, for example," the commissioner said.
Barroso said he was "extremely worried" by the social situation in Europe. In his meeting with the social partners, he reminded them of the need for fiscal consolidation and structural reforms, noting for example that he was in favour of a financial transactions tax.