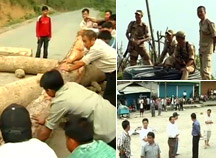 Most petrol-driven vehicles will come to a screeching halt in Manipur in 72 hours if fuel supplies continue to be blocked. Diesel run vehicles have some more time before existing stocks run out.
Manipur consumer affairs, food and public distribution Minister Y Erabot said the existing stock of petrol will last for three days while diesel for another 9 days against the state's daily requirement of 75 kilolitres of petrol and 220 kilolitres of diesel.
Manipur is facing its worst fuel crisis due to prolonged economic blockade on Imphal-Mao sector (110 km) of National Highway 39 by All Naga Students Association Manipur (ANSAM) since April 11. ANSAM is demanding amendment of Manipur Autonomous District Council Act.
The situation has worsened due to subsequent 'road blockade' on the same route by the various Naga bodies besides Nagaland-based Naga Students Federation's 'ban' on entry of Manipur trucks since early part of May. The Students' ban came in the wake of an ongoing stand-off between Manipur government and Naga bodies over NSCN-IM General Secretary Thuingaleng Muivah's proposed trip to his native Somdal village in Manipur's Ukhrul district.
Erabot also sought centre's intervention to contain the situation as the state authorities failed to provide mobile security cover to the incoming and outgoing Manipur trucks. "No mobile security escort has been provided despite repeated request which restricts the movement of the trucks till date", Minister lamented. "It's a betrayal to general public". Hundreds of goods laden trucks and oil tankers were reportedly stranded along Assam-Nagaland and Manipur-Assam borders as no security escorts came to rescued them.
Earlier he had promised to ensure supplies of essential commodities within a week.The state is also planning to lift the essential items from FCI godowns at Silchar instead of Dimapur in Nagaland.