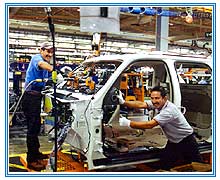 While the automobile and auto ancillaries manufacturing sector has been attracting a sustainable investment into the region, the labour unrest problems are giving the state enough reasons to lose its sheen as far as its status for the automotive hub is concerned.
Notably, the biggest automaker operating in this region is Hyundai Motors India but the company has been facing labour unrest at its Chennai plant on a continuous basis.
After the problems that it has faced in the past, Hyundai employees have threatened to go on a sit-in strike yet again after the company refused to take back 35 dismissed employees.
However, the Korean automaker is already willing to pay their dues and ex-gratia as per settlement. It may be noted here that if the workers choose to go on a strike, it will be the third strike at Hyundai over the past one year.
On April 20, 2009, employees struck work for 18 days at the plant of this automaker after the management laid off 65 workers on the disciplinary grounds. It's not Hyundai alone, even MRF has been facing problems that have a plant in the region and In September 2009, a senior official at Pricol was killed in workers' unrest.