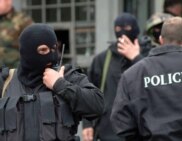 PRAGUE, March 29, 2006 (RFE/RL) — It took security forces some three hours to quell the riot at Tbilisi's Prison No. 5.
The operation involved hundreds of heavily armed police officers and prison wardens. Seven inmates died in the unrest and another 22 were wounded. Twelve security officers were injured.
Georgian officials spoke out against the unrest — and praised the security forces for their resolution of the incident.
Parliament speaker Nino Burjanadze told lawmakers on March 27 the attempted jailbreak was part of a broader scheme to spread chaos across Georgia. She also said the aborted riot and an alleged armed attack that damaged a major power supply line in Georgia's northwest the night before were "two links of the same chain."
"A very serious attempt at destabilizing the situation in the country is under way. Very serious forces are at work within the country to trigger instability," Burjanadze said.
To an opposition legislator who was inquiring why the Justice Ministry had failed to prevent a riot it says it knew was in the offing, Burjanadze bluntly replied: "I am very surprised that you're not saying anything about what happened this morning at three o'clock, when the entire city of Tbilisi, when each of us and each of our children was facing the prospect of seeing 4,000 prisoners suspected of serious crimes ending up in the city."
Defense Minister Irakli Okruashvili gave an even more serious assessment, claiming the planned jailbreak involved up to 6,000 inmates. He praised the security forces for averting a "catastrophe."
Addressing an emergency Security Council meeting on March 27, Georgian President Mikheil Saakashvili asserted that the unrest was aimed at undermining his government's efforts to restore law and order in the country. Saakashvili also hinted at purported ties between his political opponents and criminal bosses, whom he pledged to continue fighting.