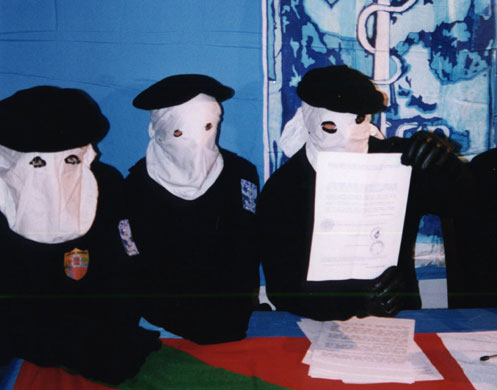 Basque separatists in Spain have made fresh demands for extortion money from businessmen, seeking up to 400,000 euros in "revolutionary tax," the head of an employers' body said Wednesday.
The armed separatist group ETA has sent out letters demanding cash payments after a gap of some six or seven months, said Jose Manuel Ayesa, the head of the employers association in the northern Navarra region, which borders the Basque Country.
"In the past weeks, they have sent out at least 12 such letters demanding sums of between 60,000 and 400,000 euros," he told a news conference.
"At the end of January, we started receiving these letters … and then there was a spate of them dated the 22nd of February."
He said there could be others as some people may not have acknowledged receiving them.
ETA, banned as a terrorist group by the European Union and the United States, is blamed for 829 deaths in its 41-year campaign for independence for the Basque region of northern Spain and southwestern France.
Extortion from businessmen in the Basque Country and Navarra is the main source of income for the group.
Ayesa said ETA had targeted some 2,000 individuals in the past decade to raise funds.
Between 2005 and 2009, 466 presumed ETA members have been arrested in several countries including Spain, France and Portugal.