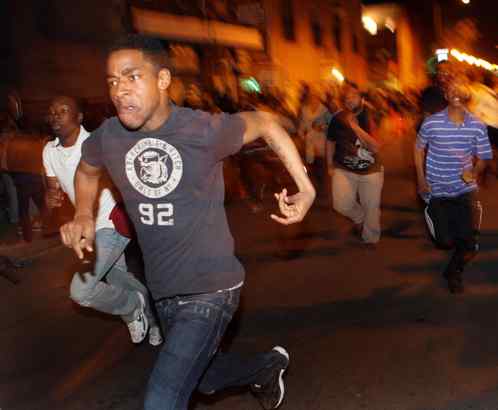 On the second day of Family Court hearings into the recent flash mob incidents in Center City, Judge Kevin Dougherty yesterday found two teens guilty of felony rioting and 16 others pleaded to the same charge.
The majority of the teens were given boot camp and intensive probation, but Dougherty left them with dire warnings.
"If I find any of you get arrested for crossing the street the wrong way, I'm removing you from society," he said.
On Monday, 11 teens went to trial and Dougherty found 10 of them guilty.
Most of the teens who appeared yesterday have been held in some form of custody since their arrests, and Dougherty told each to ask permission from their parents to return home before he would release them.
Dougherty deemed one teen, who rolled his eyes as he asked his mother, to be insincere and ordered him held until the end of the week.
Five teens with prior arrests were sent to Glen Mills, a Delaware County residential school for court-referred boys.
One teen was sent to a drug-treatment program, and one, whose arrest in the flash mob incident was his sixth, was committed to a state juvenile institution.
A 19th teen pleaded guilty to misdemeanor assault and was given boot camp.
The mother of one teen, who went to trial on the charges and later was sent to Glen Mills, broke down in the courtroom and began yelling, "That's my child" and "Let them take me."
She had to be restrained and handcuffed.
"I want order in this courtroom," Dougherty shouted from the bench. "This is not a street corner or a riot."
He later applauded the young man, a 17-year-old Bartram High School student, for remaining composed. The judge assured the teen that he would get services for his family, which has struggled with poverty and housing.
"I will do whatever is necessary to stabilize your family," Dougherty said. "But it's time for you to look at you."
In the two days of hearings, Dougherty heard cases stemming from the flash mobs – huge gatherings of teenagers – that stormed through Center City on Feb. 16 and again on March 3.
There were similar incidents in May and December, and again on Saturday, when hundreds of teens swarmed South Street, creating havoc.
On Monday, several teens admitted that they went downtown after learning of the gatherings through social media sites such as MySpace and Facebook.
The majority of the defendants Monday were students at Simon Gratz High School, and the majority yesterday were students at Bartram.
Because all the defendants are juveniles, The Inquirer is withholding their names.
Dougherty did not quiz the students as extensively yesterday on why they gathered in Center City, but one admitted to learning through a text message that Bartram students were going there to fight.
He sentenced some of the students to work as custodians at their local police districts as part of their community service.
To the teens who went home with their parents, Dougherty warned them to "walk the straight and narrow, because the next time you bump into somebody, it's going to be me."
"Tomorrow's decisions are yours," he said. "But the consequences are mine."